Rolling with Mai-Yan Kwan
"Roll With It" World Premiere at XIX Studios in Los Angeles
by Jen Abercrombie
An ecologist, a musician, a photographer, a food blogger and an artist get on bicycles in the Deep South… It's not the start of a complicated joke, but of a beautiful short film from Blackburn Design, makers of clever equipment and accessories for cycling and bike touring.
A few weeks back, Blackburn premiered their new film "Roll With It" at XIX Studios in Los Angeles. It follows five creative individuals on a bike tour around the American South, and each brought something unique to the group. The film is both entertaining and instructive, which we've come to expect from Blackburn. One of my favorite things is how they use art and storytelling to draw us in and show even the greenest cyclist that bike touring/packing can be accessible for all.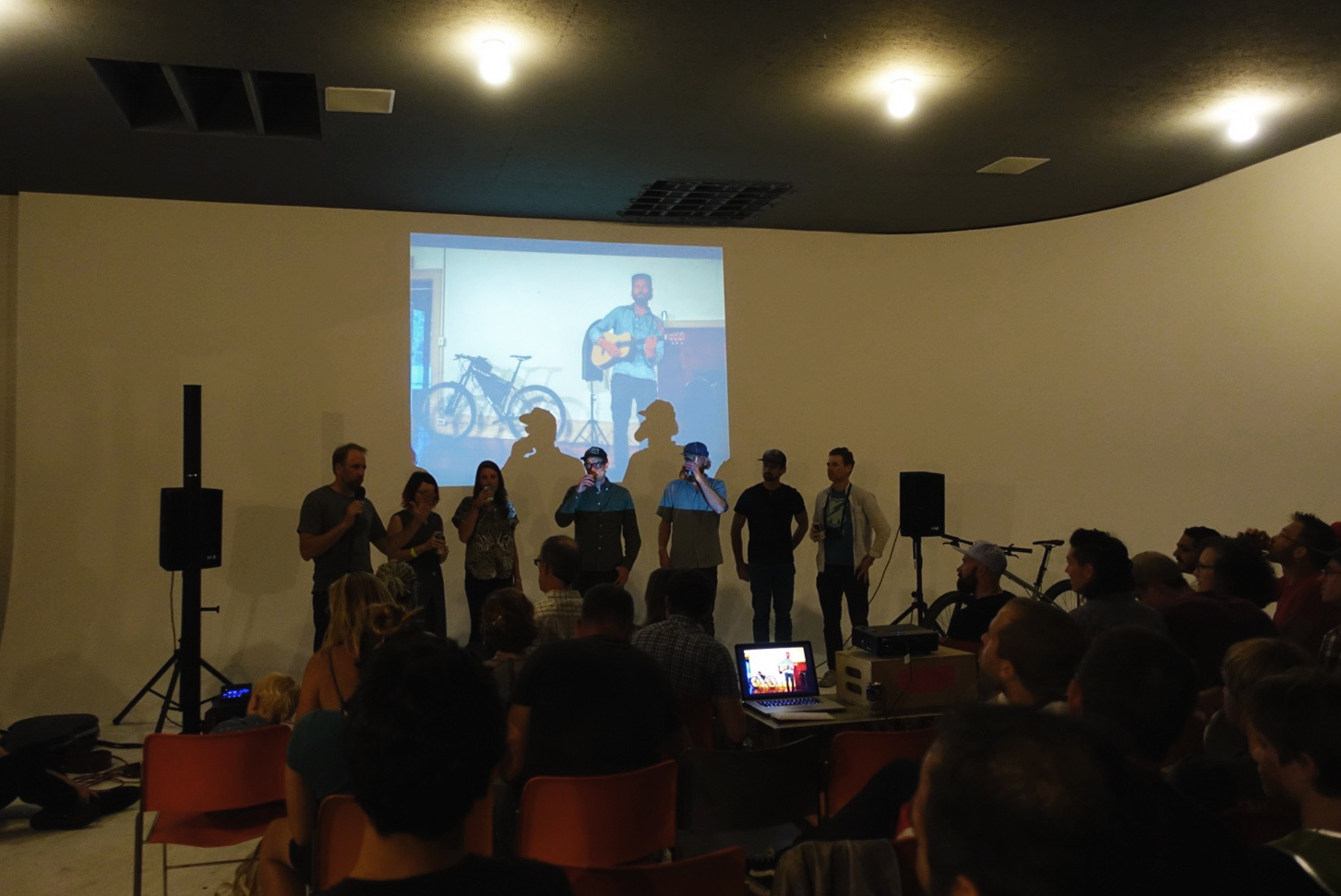 Their booklet "Camping With Your Bike" which also features Limberlost and Komorebi was a personal favorite. It demystifies a pursuit that can seem intimidating if you've never done it, and don't have the good fortune to have an experienced friend who can be your guide. It's a practical manual for beginning bikepackers, with a lot of heart and humor. The print book is bound with string and quite charming but if you can't get your hands on a copy. "Roll With It" continues in that tradition, showing a loose association of new friends with varied skillsets joining forces. A companion book to the film is available.
The film opens with musician Alex Thompson of The Shapes and artist and illustrator Chris McNally debating where to go on their trip. To make the point that you don't need an expensive bike to pull off an awesome trip, photographer Brian Vernor buys a bike in New Orleans by chatting up the local mail carrier who happens to be passing by while Brian is perusing "bicycle for sale" ads on Craigslist. He purchases the man's Schwinn for $100 and the group sets off through the south to Florida, not just biking but canoeing, surfing and stopping to interact with locals. One of the coolest parts of the film is when Alex and Brian put on a music and photo show in White Springs, FL, just before a powerful rainstorm hits, soaking the campsite and everyone's belongings. Fortuitously, they take refuge in the venue where they've just performed. McNally's signature watercolor illustrations and Thompson's music weave into the story throughout. The film finds fun ways to instruct, including practical tips like taking some air out of your tires when you encounter some sand along the route. The reminder to "make sure you have a pump" if you do so is helpful too. The age-old wilderness axiom "leave no trace" is also addressed, as ecologist Jules NeSmith picks up trash along the route, and also searches for plant life unique to the area.
One of the five riders is food blogger and designer Mai-Yan Kwan of Dirty Gourmet, a blog about camp cooking that she runs with two friends, Emily and Aimee. She's the one you definitely want to have along on a bike tour, cooking up meals on the road with flair and resourcefulness. Along the way, Mai-Yan purchases ten pounds of "three day old grouper from Mexico" from a fisherman in Florida. The fish spends part of the journey chilling in an ice-filled pannier repurposed as a cooler. As she prepares it for the rest of the group that night in camp, Alex Thompson provides musical accompaniment on a dulcimer he's strapped to the front of his bike for the journey.
Mai-Yan Kwan is originally from Quebec, Canada but lives in Los Angeles. She shares some of her story with us:
PDF: How did you get into cycling and how long have you been doing it?
MYK: I've loved cycling since I was kid and something that I did regularly throughout high school. After I finished college, I was really jonesing for a bike and convinced my boyfriend at the time to get me one for my birthday. That was the beginning of cycling as an adult.
PDF: What are some of your favorite cycling routes near where you live?
MYK: One of my favorite rides is an urban tour of Los Angeles where you get to experience a big cross-section of neighborhoods and iconic LA sights. Midtown, Downtown, Chinatown (mandatory dim sum stop), up the LA River bike path through Frogtown, Griffith Park, across the Valley, up Sepulveda and over to Venice Beach. Riding through these areas in one go really highlights the diversity of the city with dramatic changes in density, demographics and mores in general. There's a shorter version of the loop where you cut through Griffith Park with a nice long hill, and an equally long descent to the Observatory. It's a beautiful vantage point on the city and a good spot to get water before going back down into the madness.
PDF: Do you have formal training in nutrition or cooking, and what led you to creating Dirty Gourmet?
MYK: I have no formal training in cooking or nutrition. My dad is a chef and both my parents are great cooks. Food is a big part of Chinese and French Canadian culture, so in that sense, it's always been something very present and important in my life. Dirty Gourmet came out of a 4-month bike tour across North America. It was completely self-sustained and we camped 90% of the way. That made for a lot of camp meals and experimenting with food in that context. When we came back, we had a notebook full of recipes and ideas and decided to create a blog with that content.
PDF: I saw on your site that you met the other women of Dirty Gourmet on a bike tour. Is touring your favorite form of cycling? What other types of cycling do you do?
MYK: Myself, Emily Nielson and Aimee Trudeau, run Dirty Gourmet. Aimee and I went on the bike tour together and Emily joined us to create Dirty Gourmet after we returned. I have been working on making my bicycle my primary mode of transport. I commute to work, run errands and go out, all mostly by bicycle. I really love bike touring, and I do think it's my favorite form of cycling. I like the mental challenge, and how everyday is an unknown. It's living in a very present manner where you are in tune with your body, bike and your surroundings. You listen and see more intensely and therefore, are more likely to recognize serendipitous moments.
PDF: What's your favorite snack to carry on the bike?
MYK: I'm all about salty and savory snacks. If it's crunchy, even better! Things like sesame sticks, Japanese cheese puffs, Chex mix, that kind of thing.
PDF: What do you consider essential cooking equipment to carry on a multi-day bike trip?
MYK: Essentials are a good knife (I lug a chefs knife), cutting board, a stove with simmer control, a curated pantry of spices, cooking oil and salt. Lots of salt!
Check to see if the film is showing near you soon and if you'd like to see "Roll With It" in your town, you can host your own screening. Go here to find out how. Don't forget to check out Dirty Gourmet. There are tons of great recipes and ideas and the section on Camping Locations is very useful if you're on the West Coast or planning to visit.